I'm writing this in the hotel bar – Chelsea v Athletico Madrid is on the telly and David Moyes has been sacked. We've had an early supper – the menu dell dia at Tiberi – because we've got to get up at 5am to drive to Palma to catch the 8am ferry back to mainland Spain. The bikes are loaded onto the back of the car, the IMac is in its box and we've got snacks, magazines and downloaded movies to help pass the 8 hour crossing.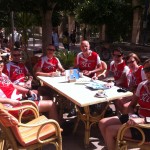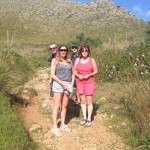 Yesterday was a big cycling day – they did 80 miles! Today, Derek decided his legs needed a gentle walk and a massage so he led the non- cyclists along a sometimes steep and stony path to Cala San Vincinc. We had coffee and cake and a paddle before heading back for lunch.
This afternoon we've been packing up – sad to be leaving, another lovely section of our trip has flown by. On the walk back from supper, a young couple asked us to take their photo so we got them to do one of us – it turned out well.
We should arrive in Denia at 4pm tomorrow. We'll drive to Benidoleig to pick up our roof box from the villa and then have an hour's drive to Valencia. On Thursday, we're driving into the south of France, overnighting in Beziers. A third day's travelling will take us into central France – looking forward to meeting up with Blandine and David!