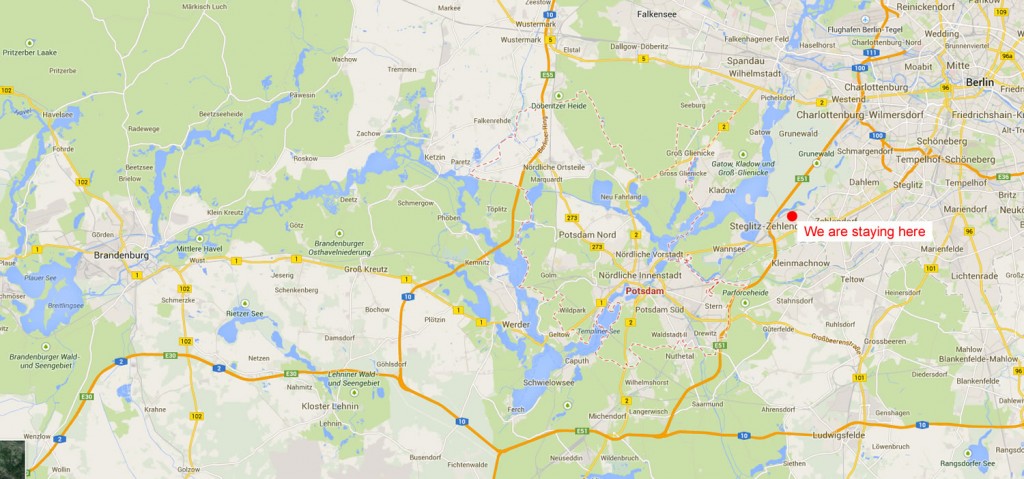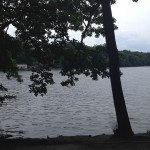 The suburb of Berlin where we are staying for a week is an area of lakes and woodland.  We had a quiet day today unpacking and exploring the local area by bike.  Close by we found a Saturday market with good cakes, a supermarket and the U Bahn and S Bahn stations for getting trains to Berlin and Pots
dam.  We are hoping to take our bikes on the train.  We then cycled around the lake called Schlachtensee, stopping for picnic lunch halfway round and at the cafe for a drink at the end.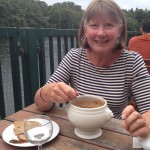 Back to the hotel for a rest – the lovely receptionist gives us a kettle to make tea and we do some more research about sightseeing – both Berlin and Potsdam are very big cities with lots to see, spread out over big areas!  Back down to the lake cafe for supper – Derek fancies more bratwurst and I have the goulash soup which is excellent! Some of our schooldays German is coming back to us – some of the compound words are funny – I bought rubber gloves today (handschuhe)!