Yesterday was a fabulous day here – calm, not a cloud in the sky and about 25 degrees.  We packed some sandwiches in the rucksack and walked along the beach for hours – just lovely.  We strolled along the water's edge all the way from Gale to Armacao de Pera and back which left us pretty tired.  It needed a visit to the pastelaria and sitting in the shade with a pot of tea and custard tarts to revive us.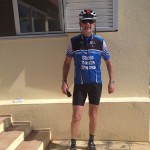 Derek's out cycling this morning and I've been doing some cooking which I love but foreign supermarkets and other people's kitchens do present some challenges and I've had a few culinary disasters.  The latest was pork meatballs on Tuesday night.  The meat was awful – hard and gristly and the tinned tomatoes I had used to make a sauce seemed really sugary.  Derek soldiered on with them but mine went in the bin and I had scrambled eggs instead.  Not speaking Spanish or Portuguese means it's quite difficult to read ingredients lists or to ask advice – the unknown fish we bought when Danny and Britt were with us in Spain went in the bin too – it was tasteless and jelly-like and we ended up munching lots of bread and cheese instead while we played cards.  Poor Julia and Martyn were treated to what should have been chicken and mushrooms in cream and wine sauce – only the chicken thighs just disintegrated into string – we ended up with chicken mush.  Sometimes, you think you are leaving a dish to simmer and return to find it boiling away like billyo.
On the whole, visits to supermarkets have been enjoyable – lots of fresh fruit and veg and nothing too expensive but it is easy to get caught out with unfamiliar meat and fish.  It's funny too how you suddenly value store cupboard things like stock cubes, mayonnaise, curry sauces, decent muesli and teabags and start hunting them down!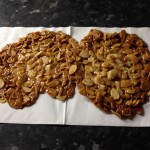 Anyway, this week's finds are florentines from the bakery – giant sugary almond biscuits for 50 centimes each and wine from Sir Cliff's vineyards (€7.99 a bottle but one of them award winning).  We're only ten minutes from the sea here but fish seems to be sold whole  – no nice neat fillets for a squeamish gal like me so we've only had good old salmon so far.  The most consistent food has probably been the citrus – winter oranges and clementines – we've eaten them by thekilo and they're always delicious.  We bought a bag of oranges at the beach car park yesterday – 80 centimes a kilo.
Today's menu:  porridge for breakfast, hot dogs (German bratwurst) for lunch and chicken salad with pear, walnuts, blue cheese and sundried tomatoes for supper.  What could possibly go wrong?