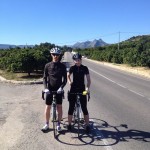 At last, a bit of youth and glamour for the blog as Danny and Britt arrive for a six day stay.
We spent yesterday afternoon driving up and down the AP7 – we dropped Julia and Martyn at Alicante airport at the end of a really enjoyable week's visit.  Then we headed back up past Benidorm to Albir where we managed to find  Ciclo Costa Blanca and pick up the bikes we had arranged to hire for Danny and Britt.  Then it was a return to Alicante airport to meet the BA flight (delayed – gits!) and finally back up the autopista arriving home at about 9pm.
Their first Spanish bike ride was a 15 miler – not too hilly apart from the climb up to the house at the end.  Only one grazed knee and still smiling!