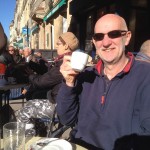 Feel a bit awkward writing this blog as I know there's a lot of bad weather in the UK at the moment but once again, it's clear blue sky and sunshine.  There was a slight frost on the patio this morning (Sunday) but Saturday was really mild and we sat in the sunshine at a cafe having mid morning coffee yesterday (sorry, readers but it's just lovely here at the moment).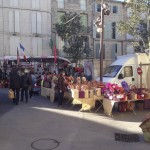 Pezenas has a big Saturday market so we walked down to the town in the sunshine and bought loads of lovely fresh fruit, veg, fish and meat.  There was a basket stall too so I bought a nice one for 5 euros.  I've spent the morning cooking as Derek is out on his bike – he set off with the local cycling club and stayed with them on the way out but came back rather more slowly on his own.  He completed an impressive 52 miles!
We both cycled yesterday afternoon at a leisurely pace – just beyond the town are a network of narrow roads around the Languedoc vineyard estates.  The scenery is beautiful  but I find some of the climbs hard going so it's a bit stop-start for me.
To finish off the weekend, we thought we'd have a walk along the beach so drove back to Valras Plage.  We thought we might be the only people around in December but there were hundreds of couples and families promenading up and down in the sunshine – the most French people we've seen in one place since we arrived!
This week's food: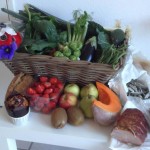 There's lots of fresh fish and seafood to buy but a lot of it looks unfamiliar, even scary so we've stuck to buying cabillaud (cod), saumon (salmon) and crevettes (prawns).  As in the UK, it's quite expensive and the French women all seem to know exactly what they want and buy whole fish and great bags of unknown crustaceans.  I took the plunge at the market yesterday and we've tried merlan (whiting) and eperlan (whitebait).  We also tried a ready made fish soup which was yummy.
A local speciality is 'Petits Pates de Pezenas' – they look like little pork pies and are sold in bulk in  the supermarkets and also in the boulangeries.  Introduced by Clive of India, they contain lamb, lemon and spices and the pastry crust is sweet!  They were vile and we spat them out – yuck!
We are getting into the French way of having bread with every meal – not good for the waistline but it feels very stylish tucking a baguette under your arm every time you head home for a meal.  Having tried supermarket madeleines with no success, we bought one that looked like a coffee shop muffin from the boulangerie – it was delicious.
The kitchen here is tiny and has a microwave/convection oven/grill which I am learning how to  use.  I have warned Danny that we won't be having roast turkey on Xmas Day – we're thinking maybe of doing a turkey paella!  The supermarkets are stacked high with boxes of chocolates but otherwise there doesn't seem to be any special Christmas food.  They have about a dozen types of Ferrero Rocher – we realised we'd never even tried the basic ones so we bought a box – they didn't last long!