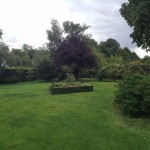 We arrived at the farmhouse mid afternoon on Wednesday and tried to familiarise ourselves with everything.  It's a big place with lots of sheds, workshops and storage as well as being a substantial house. The modern kitchen/diner is huge – probably bigger than Danny's flat – and a lovely place to work. We spend nearly all of our time here – cooking, working, reading, browsing, watching iPlayer etc. There's a lovely big garden, a large sheltered courtyard with fishpond, a tennis court and open fields all around. All in all a real wow!!.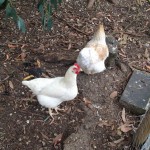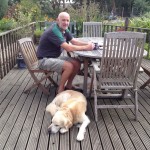 Around 6.00 the two dogs arrived – Riley and Hunter – and we are looking after them along with 7 chickens and the fish. We have a long list of instructions but it's all very calm and straightforward and we have quickly settled into a simple routine.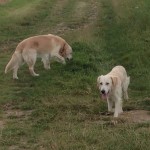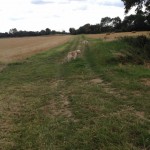 We have had a good long walk every afternoon along the Suffolk Way which is very close, and spent a good amount of time in the garden keeping it tidy. I've also serviced the bikes, fixed Barb's puncture and changed the tyres on my Tri-cross. I managed a short ride on Thursday to explore and discovered a superb cycle shop and destination cafe in the next village. How's that for convenience?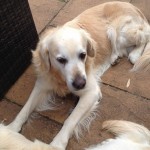 We popped into Bury St Edmunds on Thursday evening for a recce and returned this morning – Saturday – for the market and a big shop in M&S. It seems like a lovely city – it has a cathedral – and appears lively and thriving with plenty of places to eat and lots of posh shops. The Arc shopping centre looks fairly new and there is a big cinema complex within easy reach. The Abbey Cinema also looks interesting with a whole host of cultural treats.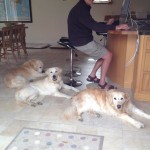 In addition to all this we've managed to do some work updating several sites and starting a new one for TK-Law Solicitors – an established client. The Summer newsletter is also about to go out – finally and our own site has had a well earned makeover.