The 2 weeks in Warwickshire has flown by and we are now getting ready to move on. Distiller's Cottage has been a good base – very quiet, comfortable and a  great location for catching up with clients and friends.
We've spent our time doing trying to recover from the 8 months in Europe and largely re-stocking ready to go again. We had visits to the dentist, the doctors surgery, the opticians. Trips to Boots, Halfords, Cycle Studio, M&S, and Waitrose.
Visits to friends have been lovely – we had an overnighter with J&M last weekend and then a day trip to Leicester to see John & Ann. Bike rides with Shipston Cycling on both Sundays have been great and a short ride around the roads of Wigston with John have kept me fit. We also had good walks near Whatton with J&M and in Leicestershire with J&A.
The big news is of course the car. After further investigation it was decided that there were too many problems to make repair viable. Fixing an old car is always a dilemma so we took the decision to look for something new.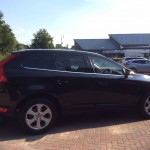 Warwick Tollbar, our local Volvo dealership, have been great. They have lent us a Volvo V40 while things have been sorted out and having chosen a vehicle on Tuesday they have added a tow bar and roof rails and readied the car for collection today. We have chosen an XC60 – a bit smaller than the old XC90 but certainly more economical.