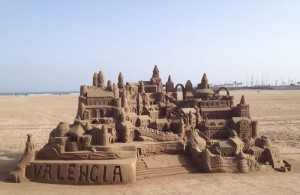 We set off on Sunday morning to drive down to Valencia in Spain for a little city break and to meet up with Gay and Bob who were travelling there by train.  It's a six hour drive from us, motorway all the way and all was going well until we stopped for lunch at a rest area and my handbag was stolen from the car.  I had stupidly put it in the front while we sorted out lunch at the back – the thieves distracted us, we knew it was happening but they were too quick for us to react.  Sick at heart, we made the necessary phone calls and comforted ourselves that we still had an undamaged car, passports, iPads and Derek's cash, cards and phone.
We were a bit calmer when we reached our hotel which was lovely and very central and had secure parking and a safe in the room.  To our amazement, Valencia was buzzing on a Sunday evening with shops all open and outdoor cafés really busy.  Lots of people were out and about so we strolled about a bit and had a drink, the temperature still about 20 degrees.
In the morning after not sleeping much, we headed to Valencia's daily food market which cheered us up no end.  It's a fabulous indoor market – the best we have ever seen (and we've seen a few!).   So much lovely food on show first thing on a Monday morning – fruit, veg, hams, bread, pastries, honey – a real wow!  We found a quiet cafe just outside for coffee and then strolled back through the fantastic architecture of Valencia's central area to meet Gay and Bob.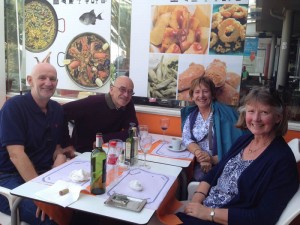 We really enjoyed Monday and Tuesday looking around – the weather was sunny and ideal for strolling and outdoor eating and because Gay and Bob knew the city a bit, it helped us relax.  We had long lunches both days, in the city on Monday and at the beach on Tuesday and then strolled to the Mercado de Colon in the evenings for drinks and tapas.  I think it's the healthiest I've ever eaten on a city break – lots of fish, salad and vegetables though we also succumbed to profiteroles.  We bought a two day ticket for the bus tour which was brilliant for getting us out to the further reaches of the city to see the new City of Arts and Sciences, the marina and the areas where the Americas Cup and Formula 1 were held.  The commentary also gave us the history of the city, albeit in rather flowery language.  Gay and I also managed a look around El Corte Ingles department store while Bob advised Derek about Rioja down in the basement food hall.
We had a quick breakfast of coffee, juice and tostada outside the hotel on Wednesday morning, said our goodbyes and headed off on the Autopista for the long drive home.  The journey was uneventful apart from heavy traffic and rain on the Barcelona ring road and as we didn't fancy stopping at a rest area again, we just kept going – nibbling quiche, cherry tomatoes, bits of bread and cheese and clementines we'd bought at the market on the move.
Castelnau has had quite a bit of rain while we've been away – the pool is full!  The forecast this week isn't great but, as I write, we've got doors and windows open and the laundry is on the line!