Picked up Danny from the airport yesterday. He flew in from Gatwick after a chaotic few hours hanging around the airport as they struggled to cope with the aftermath of the storm. Fortunately he was delayed just a few hours and arrived in Montpellier around 3pm.
Christmas Eve we walked into Pezenas, had a few beers and wandered around, people-watching and viewing all the goodies that had been ordered for late pick-up. There were turkeys roasting outside the charcuterie, seafood platters wrapped in cellophane, large flower table centre pieces and a vast array of breads, pastries and bûches de Noel.
Back at the house we feasted on Bouillabaisse washed down with Picpoul de Pinet and later ate copious amounts of chocolate.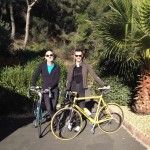 Christmas morning – sunny, warm, calm. Off for a brief bike ride – Danny on his newly rented bright yellow Cannondale. Ace!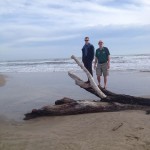 Late breakfast of smoked salmon & scrambled eggs and then off to the beach for a walk.
Lunch is a buffet spread of pork, cheese, pickles, bread and Champagne (plus more chocolate).
An afternoon of quizzing, more eating and drinking and preparing ourselves for turkey paella.