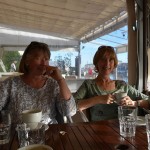 We picked John and Christine up from Beziers airport on Wednesday evening and caught up with them over supper at the kitchen table.  Thursday morning dawned sunny and bright so Derek and John walked down to the boulangerie to buy baguettes and croissants, and after breakfast on the terrace, we headed out for a walk – we did the Circuit de St Antoine to build up an appetite for lunch!
More walking in the afternoon but at a more sedate pace along the harbour front at Marseillan stopping to admire the boats and have a coffee of course.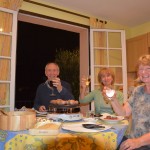 Friday's weather forecast was for rain so we called in at Carrefour for the French supermarket experience and then drove out to Meze for a long lunch which we really enjoyed – fish soup, moules frites and creme caramel though John was brave and had the local oysters.  The weather got worse before it got better but after a cup of tea at home, the skies brightened and we tackled the St Simeon walk to burn off a few calories.  We used our new raclette grill for supper and all agreed that the potato, cheese, ham combo was a real winner.  I'm embarrassed to admit that we also managed creme brûlée – our second dessert of the day!
Yesterday was the weekly Saturday Pezenas market – always a joy and as usual we came home loaded up with fruit, veg, salad, cooked chicken, bread and cakes.  A long, leisurely lunch on the patio, an hour or so sitting by the pool and it was time to take John and Christine back to Beziers for the RyanAir flight returning to London, Luton.
Another really enjoyable weekend – we are vowing to cut down on French bread, cheese, pastries etc – well for a few days at least!