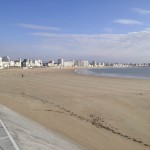 Saturday's weather was chilly but sunny and bright with a clear blue sky so we set off for Les Sables d'Olonne. The bikes are loaded and Barb has put together the usual picnic.
Just an hour away, Les Sables is a large seaside resort on the west coast in a large bay bordering the Atlantic.
We were pleasantly surprised when we arrived. Easy to park right on the Port du Peche with cafés lining the quay. We quickly found the cycling path and headed off. Literally just around the corner, we were stunned to see miles of open beach – golden sands, blue sky and gentle waves. There were even some nutters playing in the surf.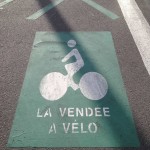 We headed along the coast on a clearly marked and segregated cycle path. It went on for miles – all the way to La Tranche – after about 4k we turned back and found a sheltered spot near the town. Picnic on the beach despite the aggressive gulls was yum!
More cycling – this time to the north and more cycling paths. The Vendee a velo routes are brilliant. After another session on the bikes we return to the car and go for a wander through the town. Again – a pleasant surprise. Lots of people strolling about in the winter sunshine. Lovely, independent shops, nice food and easy strolling.
Easy drive back to Saint Valerien. A really lovely day.