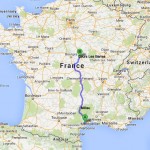 Last Friday we set off after breakfast to drive north to Cours Les Barres near Nevers in central France to stay with Blandine and David for a long weekend.  We were last with them in April when we had a lot to catch up with after about 20 years had flown by since they left Bermuda to settle in France.  We had a lovely time – going for long walks with their Dalmatian Indy, sitting around the table eating Blandine's fabulous French food and chatting endlessly about times past and present.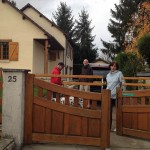 Their house was in slight disarray as they had just had a complete re-fit of their kitchen, the workmen leaving just a few hours before we arrived.  The new kitchen was fabulous but empty and untried with all their kitchen equipment stored away temporarily in the loft.  Blandine still  managed to serve delicious food all weekend using one ring and a microwave/combi oven down in the cellar/utility area.  I always pick up cooking tips from Blandine  – my quiches will be improved by cooking in a hotter oven, my pasties will be much easier if I buy an ingenious folding and crimping gadget which I have yet to track down and we were introduced to the table grill called a Raclette – brilliant, we've already bought one and used it.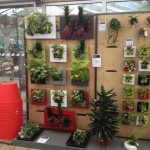 Indy provided a lot of fun – he's an incredibly handsome dog and full of energy, always wanting to cuddle up and be part of the action.  We really enjoyed walking with a dog again and the weather was mostly bright and sunny.  It rained a little on Sunday afternoon so Blandine suggested the garden centre Botanic to while away an hour – we were really impressed.  The plants were tip-top and arrangements were beautiful with all sorts of new ways of having plants indoors – magnetic pots and picture frames with greenery.  They had excellent kitchen and household accessories and had just opened their Christmas section too so Derek tracked down some battery powered fairy lights for a festive outdoor display!
We set off home on Monday morning – Blandine went off to work and David was tasked with beginning to sort out the kitchen.  Tuesday 11th was the Remembrance Day public holiday so we could all recover from a delightfully busy long weekend.