January 26th – Sunday morning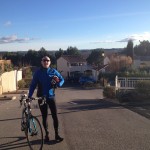 The weather is perfect for a ride so I plan to return to La Rouquette. There are loads of cyclists out today many in their shorts!
The climb is still tough and the descent a bit quick especially around the hairpins but the run home is a delight. I manage a fast pace and get back in under 2 hours.
One more long ride in the week I think as long as the weather holds and then the roads of Spain beckon.