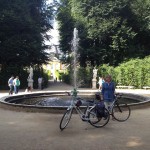 First let me say we are having a lovely time in Berlin. We have a nice hotel out near Potsdam and we have been exploring on foot and on the bikes now for a couple of days. We have 2 more before we leave Friday morning.
Our next stop is Poperinge near Ypres. We are there for 5 nights with Danny and Britt cycling and being part of the TDF.
So – the bad news- the Volvo is in a bad way poor old girl! The dealership in Hamburg have diagnosed further problems and do not know when or if they can repair her.
We have decided to abandon her – well not entirely. Volvo Assistance are going to repatriate her to Warwick Tollbar and we will then decide on what to do.
They have also arranged for us to keep the hire car until we get to Poperinge and we can drop it off nearby at Lille Station.
So. We have a couple more days here. Drive the hire car to our final destination in Belgium and then try to find our way back to the UK.
We are desperately sad that the XC90 hasn't made it all the way round. After 8 months on the road she has finally shown her age. She has done 130,000 miles so we'll have to see.
Volvo Assistance have been brilliant and so far picked up all the costs. We can't thank them enough.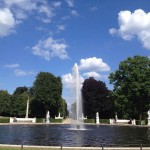 This afternoon we to took the bikes on the train (S-Bahn) to Potsdam and cycled to Sanssouci. The first bit from the station to the park is a bit fraught but once in the park it was lovely. We have been so lucky with the weather again.
Back at the hotel we chilled for a bit and then headed to the lake for our regular supper of sausage and salad. (Barb has soup).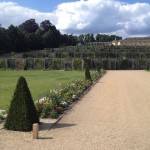 More trips on the train tomorrow – we plan to explore the Tiergarten and visit Checkpoint Charlie.