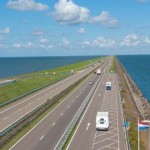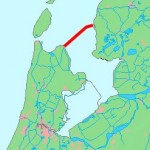 Just a one night stopover north of Hamburg on our way to Copenhagen but what a little gem. The drive from Bergen was really easy and the 20 mile section across the Afsluitdijk early on was really interesting. Built between 1927 and 1933, this dam or dijk blocked off the Zuiderzee and created the freshwater lake IJsselmeer. They've built a motorway on top of it and it connects North Holland with Friesland. Check it out on Wikipedia.
We would normally search out an Ibis when en route but we found this apartment on Booking.com and as it was just a short distance from Autobahn 1 we decided to give it a try.
It's actually a large one bedroom apartment which is an annexe to someone's house in a very leafy suburb of Hamburg. It appears to be a bit of a wow and we intend to return for a night on our way back, en route to Berlin.
It's really well equipped with a king size bed, large shower room with huge rain shower, living room, kitchenette with fridge, cooker, dishwasher etc and a lovely patio with a private garden.
We were surprised we could book it for a one night stay on a Saturday – it certainly beats the the Ibis and it's cheaper too!
We've visited the local Netto and bought a few things and are now sitting on the patio with drinks, nibbles, super fast wifi watching a red squirrel run across the decking.
I can't end this post without a mention of Holland's 5-1 win last night. We were fortunate to be in the local bar for the first half – the place erupted when Van Persie scored – and we watched the second half back at the apartment surrounded by football house parties, barbecues etc. Every time Holland scored, there was a mass of noise – the fun continued well into the night after the final whistle. What a way to end our stay in Holland – we really enjoyed it and I'm sure we will return.