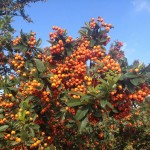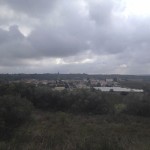 It's been a bit cloudy, warm, breezy and very humid yesterday and today – all mixed up together!  We did a long walk yesterday from Coteau Moliere through the vineyards and the village of Tourbes – one that we remembered from last winter.  The pyracantha hedges were in full bloom and looked very impressive.
This morning, we cycled into Pezenas, tried a different cafe, checked out the kitchen shop and picked up some milk in Carrefour.  After lunch, we drove to the nearby village of Aumes to do a short walk. Some of the route was a bit blocked by landfall, branches etc after the flooding and we saw several collapsed walls.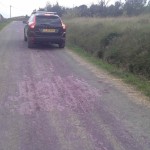 The road on the way there was stained purple where presumably bunches of grapes had fallen off lorries.  There were miles and miles of vineyards – I read that Languedoc Roussillon produces a third of all French wine.  There are wine 'caves' everywhere around here for tasting and buying but they don't look open to the public out of season.  You can buy local wine at the supermarkets, mostly about 3.50 euros a bottle.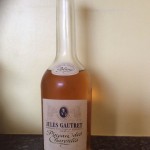 Speaking of local wine, we bought some Pineau des Charentes (made in Jonzac near Chevanceaux where we stayed last month) in the supermarket here, cheaper than we'd ever seen it.  It's strong and sweet and is drunk as an aperitif or with dessert or cheese.  We had it chilled in a tumbler with ice, a bit like the complimentary digestif they bring you in Spain at the end of a meal.  It was dangerously delicious!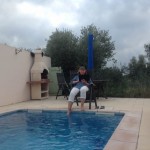 After both the walk and the bike ride, we dangled our feet in the pool to cool down – sad or what!