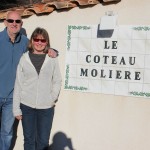 Blue sky and sunshine on Friday 17th get the day off to a great start. We've got company too – Gillian and Michael have travelled from Stratford upon Avon by train (Chiltern Railways, Eurostar and SNCF) all the way to Gare St Roche, Montpellier where we picked them up last night. We have a walk from the apartment up to Saint Simeon to whip up an appetite for coffee and croissants on the patio and then head for Meze for more strolling about and a long lunch.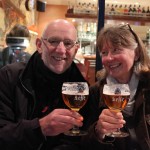 Home for a cuppa and then we walk down to Pezenas for a few drinks at the Cafe des Arts – sit outside watching the fairy lights twinkling and the world going by. Home for a few sandwiches and lots more chatting and catching up.
What a lovely birthday!