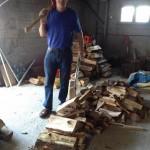 The logs continue to be a challenge but I think I'm winning – just!!
I've bought an axe and a bow saw – how macho is that? They split quite easily lengthways and then I use the bow saw to cut them in half. There are quite a lot however and so this is ongoing. 2 stere is a lot of wood!! I might just have to upgrade to a chainsaw.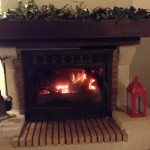 The fire however is a real treat and with holly on the mantlepiece it looks very Christmassy.