It was an easy half day journey north from The Algarve up towards Lisbon yesterday – empty motorway all the way (€40 in tolls though!).  The Portuguese toll system is fairly chaotic and too complicated to describe here but we were actually relieved that we managed to pay as they don't make it easy for you.
This villa is just outside a town called Azambuja which is about 30 mins north of Lisbon.  There's a bit of noise from the road and the inevitable endlessly barking dogs from the few houses around but otherwise it seems a peaceful spot.  Derek has gone out on a cycling recce to get to know the area a bit.  There's a train station at Azambuja with trains into Lisbon so I think we'll head in tomorrow for a bit of city life.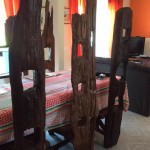 This villa is owned by a Portuguese lady Ana, whose brother Tony let us in yesterday.  There are the inevitable teething problems – no hot water, no key for garage, garden furniture locked in garage, wifi a bit unpredictable etc. so we'll try to get those sorted today.  Ana has decorated the villa quite stylishly and has the most amazing dining chairs I have ever seen!  Outside, the garden is a bit scruffy but full of little patches of flowers – daffodils, narcissi, freesias, lilies, orchids, camellias and magnolia as well as orange and loquat trees.
Anyway, we've arrived safely, been to Intermarche for groceries and last night we had the ever reliable first-night chilli for supper on our laps watching the movie Captain Phillips on AppleTV.  The weather is lovely so fingers crossed for a good fortnight.  I'm off to unpack my clothes and listen to Desert Island Discs on Radio 4.