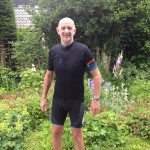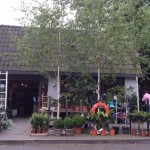 While Derek headed out for a '2 hour' bike ride (actually over 3 – those who know him will smile!), I had a quiet morning taking a few photos of the local area.  Nanette's Apartments are on Dorpsstraat so I wandered up and down having a look at the different types of houses and shops on this street.  All the houses are individually designed and really well kept – it's quite a busy little residential street with people bombing along the cobbled street on bikes all the time.  It's amazing what people carry on bikes – our best sighting at the moment is a lady carrying two kids and a dog!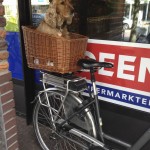 After lunch, we both cycled north to the next town, Schoorl, where we bought an iron and had a cup of tea. It was a lovely ride on paths through the woods.  We called in at the supermarket on the way back and filled my panniers with groceries.  Supper outside again – our terrace faces west so the evening sun is lovely.  We had salmon for dins – ever reliable, it tastes exactly the same whichever country you're in.

We're planning to head into Amsterdam again tomorrow but the weather forecast says rain!