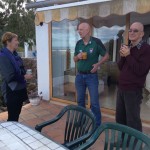 Gay and  Bob drove over from Cocentaina today – we had lunch and a good catch up.  The weather was mild and sunny but got a bit windy as the afternoon went on  so the photos show us moving around the villa in between courses – starters and mains indoors, dessert on the balcony and tea and coffee on the patio.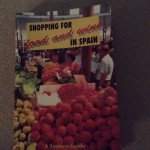 They were very kind and brought a bottle of bubbly, some lovely chocolate truffles and a really useful book about Spanish food and wine shopping which I have read through and will be taking with me to the supermarket.
A lovely day.  We finished off by catching up with the Winter Olympics on the telly.