Saturday was full of our favourite things – sunshine, a market, coffee and cake, a long lunch, a rugby match and fireworks,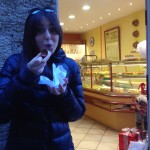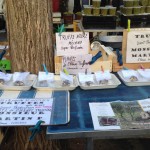 After a prolonged chilly spell, the temperature shot up to 15-20 degrees so we spent the morning in Pezenas strolling around and buying our usual haul of fruit, veg, cooked chicken and other goodies.  Highlights included Britt sampling a petit pate de Pezenas and the truffle man letting Barb sniff his truffles!  It was busy in town with both locals and tourists enjoying the sunshine and the last weekend of the Xmas/New Year break.  We bought the two special cakes – la galette des rois and la couronne – both designed to celebrate the arrival of the three kings in Bethlehem.  Both contain a little plastic figure and whoever gets them in their slice is king for the day!  Derek and Danny were the lucky winners.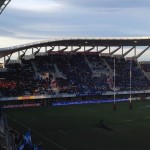 In the afternoon, Montpellier rugby club were on much better form than of late and to our delight beat the mighty Toulon 16-12. The stadium was packed, flags were waved and spirits were high – exciting stuff.  At 6.30 when the game finished, they set up fireworks on the pitch, turned the lights out and wow! – a fantastic display.  We were home by about 8.30pm and ended the day eating chilli for supper by a roaring log fire.