We didn't really know what to expect of this journey – Derek loves ferries but I was worried about 8 hours of feeling travel sick.  In the end, it was quite an experience – there's something magical about seeing everything from the water especially from one of the top decks.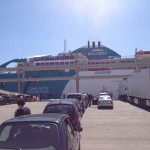 The fun began as we joined the queue of cars and lorries at the terminal – only the driver goes in the car onto the ferry so I was instructed to get out of the car and go to the waiting lounge with my boarding pass and we just had to trust that we would meet up on board.  Derek looked very relieved to see me marching along with the foot passengers and climbing up the ramp!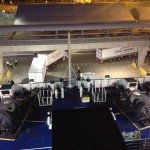 We had booked comfy recliners in the Neptuno lounge but in fact spent the first half of the journey on the top deck near the bar and swimming pool.  The ferry was huge – 5 vehicle decks and 3 passenger decks.  We might have guessed that a ferry heading for Ibiza would have a party atmosphere – there was a dj playing disco music though only a few little girls actually danced.  It was glorious out on deck though windy and of course starting to get chilly.  We watched the sun set and had a bird's eye view of the approach to Ibiza, the ferry being docked and vehicles disembarking – all quite magical.
We repaired to the Neptuno lounge after Ibiza.  I watched the film Philomena and Derek listened to some podcasts then we dozed a bit, finally arriving in Palma at 1.15am.  Our car was on deck 5 right in the corner so it took us ages to disembark and we still had to drive out of Palma, north to Port de Pollensa.  Mallorca looked lovely – all lit up, especially the cathedral, loads of yachts and palm trees – we really enjoyed being out at night – it felt like a proper adventure driving along in the early hours.
We finally got to the Duva Apartments at 2.30am – reception was locked and we had to phone to wake up the receptionist who I think was having a doze out back.  We made cups of tea and finally got a few hours sleep.