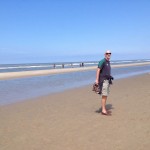 We spent yesterday settling in to the apartment here in Bergen – the area is very affluent and stylish with lots of beautifully designed houses with elegant front gardens.  I don't think I've ever seen so many trees and shrubs and the weather has been good too so it's all very lovely.  We cycled around the town a bit and then down to the beach which was quite busy on a sunny Sunday afternoon.  Everyone cycles here – no helmets or Lycra – bike lanes and bike racks everywhere make it all very easy.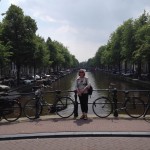 Today was our first trip into Amsterdam.  We decided to leave the Volvo here and cycled to the nearby station at Alkmaar to catch the train into the city.  We coped ok with the two tier bike racks and the complications of buying train tickets and arrived at the very grand Centraal Station mid morning.  Outside the station however was less appealing – metro building works, noisy traffic and too much litter.  We made our way to Dam Square which our guide book warned us was 'desultory' and began to feel a bit glum – couldn't even find a
coffee shop we liked the look of.  Things brightened a bit when we found Greenwoods by the canal – I fancied everything on the menu (a rarity for me!) but we settled on eggs Benedict, coffee and orange juice.  We sat outside and started to relax a bit.  We strolled around the Nine Streets area of the canals past Anne Frank Huis (huge queues to go in), wandered round a market, bought some chocolate Florentines and ended up back at Greenwoods for tea and cake.  The train back was fine though we got a bit lost on the cycle home.  A quiet night in this evening sitting outside on our little patio.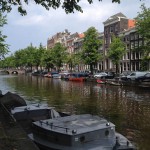 So, we're not sure what we think about Amsterdam – will probably head back in on Wednesday to look at The Museum Quarter and The Vondelpark. There are lots of museums we'd like to visit but at approx 15 euros per person entry fee for each one and lots of long queues, we may have to be selective.  The Old Centre where we were today wasn't as pretty as we'd imagined and there was a lot of traffic noise and litter. 

Paying for things here has been rather contrary.  The supermarket here in Bergen doesn't take credit cards.  When we tried to buy train tickets at the machine, it would only accept coins (tickets cost 28 euros!) so we had to go to the office (no credit cards).  When we bought some fruit in an Amsterdam store, we were told they didn't accept cash but credit card was fine (3.50 euros)!

Anyway, more cycling and exploring tomorrow!