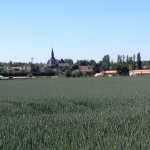 Danny and Britt headed off in the dark to catch the ferry very early last Friday leaving us waving a bleary eyed farewell before going back to bed for a snooze.  They got back safely and the sun shone all weekend on both sides of The Channel.  Derek headed off to Nantes airport on Sunday evening and on Monday morning, Charlie and Lola arrived to keep me company during my 'retreat' until Derek's return on Wednesday afternoon.


They are brother and sister lurcher crosses and were great company.  Penny and Tim were, by coincidence, also in the UK for a few days so I suggested the dogs stay here rather than going into kennels.  The best thing about having dogs around is that they make you laugh – leaping through the wheat fields like dolphins, joining me when I tried to do my exercises outside and cuddling up whenever the opportunity arose.  We had a few wet walks though – dogs and rain – not a great combo!

So, it's our last day in France today and we are sad to leave.  Tomorrow we're off to St Malo to catch the ferry to Guernsey.