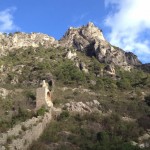 A lovely afternoon – a short drive northwards up the A75 took us to the medieval village and monastery of St Guilhem-le-Desert.  It is immaculately preserved so is a really magical mixture of ancient buildings and modern people, cars and cafes – we really enjoyed strolling around all the little alleyways and looking at all the doorways.  It's a UNESCO World Heritage Site and has car parks geared up for lots of visitors but on a Wednesday afternoon in January, there was hardly anyone around.  It's rather nice seeing these places when they're quiet.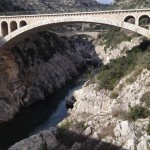 We also stopped at the nearby Pont du Diable – a very impressive arched bridge – and had a stroll around there on our own too.  The dramatic scenery is a result of the gorge created by the Herault river.
All of this got just a half page mention in The Rough Guide to Languedoc & Roussillon so it really exceeded our expectations.  Blue sky and sunshine helped!