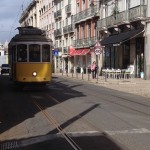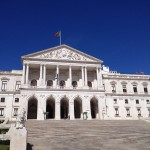 The pocket Rough Guide to Lisbon has been brilliant at helping us around the city so, having done all the main sites, we decide to have one final day and choose chapter 5 – basically the posh bits.
Today's area has big houses, the parliament building, embassies and Lisbon's main art gallery as well as a Basilica with a park nearby and the English cemetery.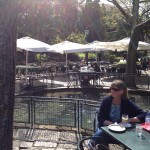 We start off with coffee in the lovely Jardim da Estrela park and then stroll over to the cemetery – a weird choice but the author Henry Fielding (I first did him for A level) is buried there.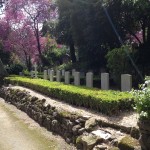 We also got interested at the maritime museum yesterday in Portugal's role in the war and the cemetery had some commonwealth tended war graves.
We had lunch at the art gallery's cafe – food not great but fabulous location sitting outside amongst statues overlooking the docks.  Then we strolled back towards the city centre, stopping off to have tea and buy groceries before our final train journey home to Azambuja.