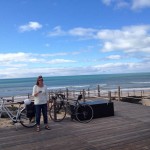 Today was our first gloriously sunny day so we set off with the bikes and a flask of coffee to explore the area.  We had a lovely time wheeling around finding the local beaches and exploring the cycle routes.  Lunchtime found us at Avaristo with its restaurant overlooking the bay.  They didn't have a menu but offered us fish soup and garlic bread – perfect.  After lunch we cycled a bit more and ended up at the pastelaria/cafe for a pot of tea and pastel nata (little custard tarts – my favourite).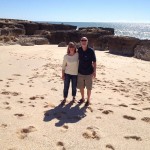 I can really see why people from northern Europe love the Algarve.  The colours are glorious – the blue sea and sky of course, the lovely golden sandy beaches but also the white and cream houses with their pale terra cotta tiled roofs – it's a winning combination.  The plants and trees are lovely too – lots of varied greenery and flowers.  Its sub-tropical climate means there are some old Bermuda favourites – today I saw hibiscus, bougainvillaea, loquats and birds of paradise everywhere.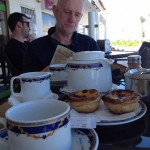 Restaurants, cafes and shops are happy to explain things in English (and probably Dutch and German too) so it makes life easy and cafes in particular make stopping for a drink and a snack so affordable (Starbucks et al take note).  We sat on a cool balcony and were served a pot of tea and two cakes by a friendly waitress and the bill came to €3.80.
We also found a much better supermarket Apolonia – smaller and more manageable and stocking all sorts of European products as well as Portuguese goods – not unlike Waitrose in style.  You could of course buy The Daily Mail or The Telegraph if you cared to.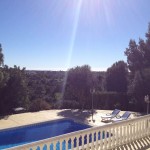 Back at the villa this afternoon we took some more photos, had a lovely hot shower (plenty of hot water and proper power showers – unlike in Spain) and relaxed with our iPads (better wifi signal here too).  Every villa has its issues though – we can't get BBC here on the telly as the beeb have changed the satellite they are using so the whole of Spain and Portugal are denied Freeview.
Every day has its oddities – today's was a huge gathering of Mercedes cars and vans having some kind of conference at the big resort in Gale.