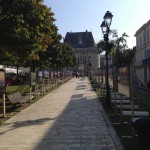 We drove to Jonzac this morning in the belief there was a market. No such luck! The town was lovely and it was a beautiful day – a bit hot – but ok. We wandered about, visited the tourist office for maps and was informed there was an evening market starting at 6.30.
After coffee sitting outside in the main square and next to the chateau we set off for Le Clerc to pick up more food. I'm also in search of a cheap printer so we can print off some tickets, a DVLA form and some Google map extracts. Plenty of food but no cheap printers!!
Back at the barn we have a late lunch and then set off along the Voie Verte to burn off a few calories. We also take a few photos inspired by the outdoor exhibition in Jonzac this morning.
We get some work done this afternoon and after supper head back to Jonzac to the market. On arrival it's very quiet!! However as we approach the market square we hear music but it's not Elton John – it's some old french crooner singing a mixture of French and English classics and it's not a regular market. What we see is a communal supper – about 400 locals seated at tables eating and drinking with food stalls all around. There are oysters, mussels, escargots, boulots, all sorts of quiche, paella etc etc, and of course, copious amounts of beer and wine. It must be the end of season party!!
So sadly no night time market either – after a bit of a wander we head back to the car and get back just in time for bake-off.
It's still very warm here even at 11.00 at night and the weather looks set fair for a several days to come. A good long bike ride set for the morning.