The day starts with the usual 'up and at 'em' and we set off for Azambuja station.  We have the transport set up all sorted now so we re-charge our Via Viagem cards and wait for the train – the 9.06 to Santa Apolonia.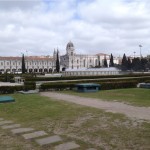 A short walk along the river and we pick up tram 15 to Belem. This is the main tourist route so the tram is packed and we have to stand all the way being buffeted about as the tram twists and turns. Finally we arrive at the cultural centre in Belem and make for the cafe. The fun can't begin until we've had coffee and pastel de nata.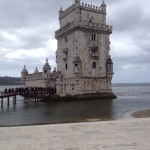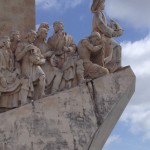 We decide to stroll about to begin with rather than head inside with all the other tourist 'sheep'. The great monument to the discoverers that overlooks the Tejo and the Belem Tower that once guarded the entrance to the river are main attractions and with some justification. They are both impressive and very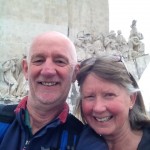 popular. We take our first 'selfie' with Henry the Navigator in the background.
Into the Museum of Modern Art – the Berardo Collection – and a wander through huge galleries filled with an array of weird and wonderful stuff from the 20th century. Some of it is just bizarre!
Lunch in the cultural centre and then a visit to the Maritime Museum which charts Portugal's long history of discovery and exploration. The modern navy is small but I was surprised to learn of the affection for submarines!
The number one attraction in Lisbon is the Jeronimos monastery built in 1502. It's huge, impressive and very busy. Vasco da Gama is buried here. We have a quick wander through and head off – it's impressive but looking round a huge church is not for us.
The tram journey home is eventful. Not full but in the narrow streets we get stuck on a corner where a taxi has badly parked and the tram is jammed against it. We get off and walk the last bit.
Our usual tea and cake at the station and we are back home for 6.00. Another long day pounding the streets. We are gluttons for punishment and plan a final visit tomorrow (Wednesday) before we have to start the process of packing up and moving off on Thursday.