Wednesday and Friday were rest days from cycling so we set off on our favourite walks.  On Wednesday we did 'Via Domitia' and then headed to Bistrot Alex in nearby Florensac for lunch.  Lovely food and service again – really first rate!  The sun shone so we went on to Marseillan after lunch and had a stroll along the waterside and then a drink by the harbour.  Danny made some lovely sausage rolls for supper – a really gourmet day!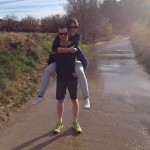 On Friday, their last full day, Danny persuaded us all to do the long St Antoine walk.  It was beautiful weather again and after lunch we sat by the pool for a while while Derek returned Britt's rental bike to Caux.  Danny started to dismantle his bike ready to pack it into the bike box but discovered the headset bolt had seized.  We were heading into Pezenas for a drink so we dropped in to Planete Velos, our local bike shop, who promised to fix it by the morning.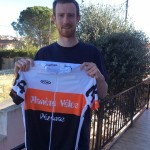 Sure enough, they sorted it by drilling it out and putting in a new bolt.  Danny was so impressed, he bought a souvenir shirt.  So, after a final stroll around the Saturday morning market and a final coffee and cake at Cafe des Arts, it was time for packing and off to Montpellier airport for the flight back to Gatwick.  Back in Wimbledon, their flat greeted them with a nasty smell – the electricity had gone off and so had some meat and fish in their freezer!