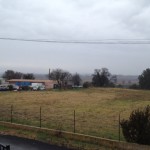 January 19th – an early start today as Gillian & Michael are booked on the 6.58 TGV from Montpellier to Lille so up at 5.30 and off along the A9.
The forecast for today is rain and this started just after we set off and so the journey on the motorway was wet. We made good time however, didn't get lost and arrived at the station at 6.20 – plenty of time. The journey back was just as easy and I pondered if this would be my last transit through the tolls!
Back at the villa by 7.00 – still dark and quite chilly so several cups of tea and a catch up with the news and various emails. Apparently today is 'Blue Monday' and this weather is set in for the day. Can't remember the last time we had a day of rain – so a few chores and a bit of work to keep us busy.