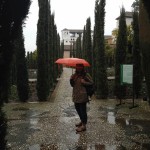 We left the Spanish villa at about 9 am on Saturday morning with the Volvo fully loaded with roof box and bike rack to set off on the long journey into Portugal.  The car and bikes were dusty with yellow pollen from the pine trees – a feature of February in the area according to Julian the gardener.  Rain was forecast so we hoped it would wash everything clean.
The journey to Granada  went through some rugged landscape and climbing up in the sierras resulted in some dramatic temperature changes – we were down to 4 degrees at one stage!  After 4-5 hours travelling with a few rest stops for coffee and sandwiches, the satnav brought us to the Motel Sierra Nevada – which was exactly as its reviews said it would be – friendly, good room, great undercover parking, near the bus station – for our one night stay in Granada.
We caught the bus into the city to visit the famous Alhambra Palace with its spectacular views and lovely gardens which we really enjoyed despite the pouring rain.  We strolled around it for ages and also had a look at the Cathedral area – by the time we got back to the motel we were way too weary and wet to cope with a restaurant meal.  We nearly gave in to a very early night but decided to walk over to the motel bar for a drink and a snack – the little place was full of families watching La Liga football on the tv.  We had two beers and a mineral water and Derek ordered a hot chorizo sandwich – it came divided into two so we could share it with French fries and some sort of pork stew with bread as a side.  It hit the spot perfectly and the total bill for food and drinks came to €7.60!!
We were up and on the road again at 8 am on Sunday, arriving at the villa in The Algarve in southern Portugal at lunchtime (having gained an hour!)