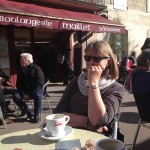 Birthday celebrations spread over a few days this year.  We had a nice afternoon on Wednesday in Montpellier before meeting Gillian and Michael at the station and Barb bought a few birthday treats in favourite shops, Petit Bateau and Longchamps.  Had a wander around IKEA and tried to get into the mindset of living in a small London apartment – quite a contrast to French village style.  All of a sudden, we're thinking grey walls, stainless steel and minimalism!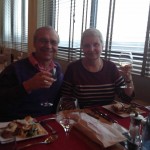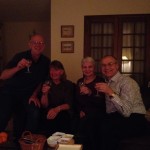 G and M treated us to lunch at Bistrot Alex in Florensac on Friday and bought Barb some lovely roses at Pezenas market on Saturday plus we've done all our favourite walks (Via Domitia, St. Antoine, Marseillan, St. Simeon  and Montagnac in the sunshine  – the Montagnac walk accompanied by a lively stray dog! Champagne, of course, in the evening.
We finished the weekend off with Raclette and yet more Picpoul de Pinet.  Back to the quiet life on Monday!