A lovely mild, sunny day which we spend swanning about in our shirtsleeves.  We seemed to get a lot done today!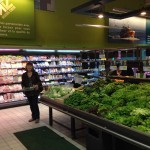 We did a supermarket shop at Intermarché  where notably the huge fresh fish counter was completely empty – obviously no one went fishing yesterday (New Year's Day)
We did our third consecutive day's circular walk from home up through the vineyards to the old church of Saint Simeon le Vieux.  The sunshine and views were splendid but also enjoyable is the dry ground – there just isn't any mud in the south of France!  Our shoes are clean, the bikes are clean and the we hardly recognise the Volvo without its usual winter coating of Cotswold grime.
After lunch, Derek drove me round the cycle route he and Danny had been doing last week – up through Caux, Roujan, Neffiès over La Rouquette and back via Fontes.  Wow!!  It is a fabulous route with winding hairpin bends and glorious views.  We saw quite a few cyclists out enjoying the sunshine.
The reason Derek wasn't cycling himself was that both his bikes needed a bit of TLC.  We had to return the yellow Cannondale we hired for Danny to the local bike shop Planète Vélos today so while we were there we asked the nice proprietor to look at Derek's Trek and also the TriCross.  My French conversation skills struggled a bit to discuss technical bike matters but the chap was very patient and by 6pm we came away with two repaired bikes and not too large a bill.