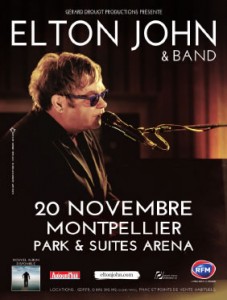 We booked tickets to see Elton John back in June when we were in Gothenburg. We hadn't been to a concert for years and thought it would be a treat on a Thursday November evening and a chance to see a bit of culture in Montpellier.
The Park & Suites is a bit like the LG Arena in Birmingham – a bit smaller, loads of free parking and easy to get to.  When we arrived it was already beginning to fill up with thousands of oldies like us, all very calm and sedate.  We played 'spot the young person' but couldn't see any!
Not sure what we expected really but Elton was unbelievable in his sparkly blue jacket – a two and a half hour set, 26 songs and not a wrong note. His voice was better than ever, piano playing phenomenal and he was just a master in control of the audience.  Every song you can name was played and at the end we were on our feet along with all the other over 60s rocking to I'm Still Standing, Saturday Night's All Right and Crocodile Rock. He finished with Circle of Life at 11.00.  His band, including a drummer and guitarist who'd been touring with him for 40 years, and a brilliant young percussionist were fantastic and really looked to be enjoying themselves.
Getting away was a bit trafficky and slow but not really a problem and we arrived back at the house well after midnight. What an adventure!  Elton definitely goes on the list as a tour highlight for us and now holds legend status in our household.