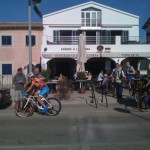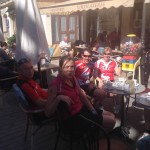 Walked down to Port de Pollensa to watch some time trials going from Tolos.  No celebrity riders around so we set off to Cala Picafort and Muro – a 35 mile round trip, promising to be back at the apartments for lunchtime.  A lovely, smooth ride, mostly flat with the group working well together.  Stopped for coffee and cake at Muro, having found the well hidden cafe and were rewarded with free oranges!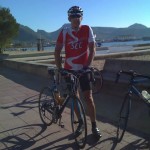 The group split with a few doing a longer stint to Inca and back via Campenet while the main bunch headed back to Pollensa in search of the Rapha pop-up shop.  Mostly flat, apart from the 18% lump near Pollensa golf course.  The Rapha shop remained elusive!  Lunch by the pool and a session on the sun loungers left us ready to do the short, sharp climb to Formentor at 5pm.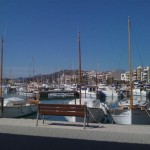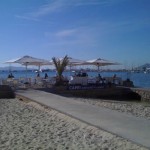 Meanwhile, Barb spent the morning in Port de Pollensa having coffee and brownie by the harbour, getting a haircut, buying some fruit and doing a circular walk back for lunch and poolside lounging.  Exhausting!
In the evening we all walked into town and found a table for 12 sitting outside at Tiberi.  It got a little chilly as the evening went on but the food was brilliant.  I had Mallorcan style fish – perch with spinach (a vegetable!!), tomatoes, raisins and potatoes.  Derek had pork loin with sobrasada wrapped in cabbage.