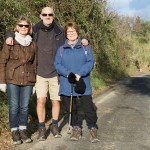 We're having a lovely few days gadding about despite the cold, and sometimes rainy, weather.  We've been for walks, sat in cafés and had long lunches as well as visits to Meze, Marseillan, Pezenas market and Montpellier rugby club.  Derek and John have already done three morning bike rides while Ann and I have made warming soups for lunch and strolled down to the boulangerie (which now has Xmas window displays and is full of chocolates and other goodies).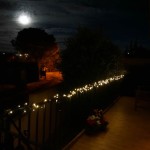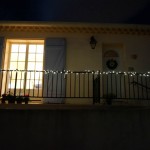 We've got our Xmas wreath on the front door, fairy lights on the balcony and I bought a big bunch of holly at the market – so it's getting quite Christmassy at Les Trois Oliviers.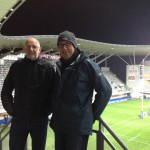 We were out on Friday evening for the rugby – a rather late kick off at 8.45pm in the cold and rain so Saturday evening was spent in front of the log fire, having raclette and watching 'Strictly'.
After a long walk yesterday afternoon, we're limiting ourselves to a trip to the supermarket after lunch and maybe a stop for coffee and chocolate chaud.