Before we left Gothenburg, we paid visits to two Swedish giants – Volvo and IKEA.  This meant negotiating Gothenburg's ring road with which even our usually reliable TomTom struggled.  We made it though and dodged some rain showers as well.  A bike ride was considered but, looking at the black clouds, we decided to have a quiet afternoon at the hotel, watching a bit of Wimbledon and England v Costa Rica.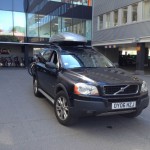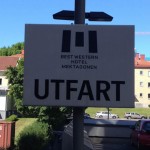 First though we had to re-park the Volvo in the Mektagonen's secure car park.  It has a 2.1m height restriction which is cutting it fine with the roof box on – we could only get in by dodging light fittings. When we arrived on Sunday, the car park was pretty empty so we managed ok but today, spaces were rare so it took a while!
The three and a half hour ferry crossing on Wednesday took us from Gothenburg across to Frederikshaven in northern Denmark.  It was a calm, sunny day so our sixth (and last) ferry journey passed uneventfully without use of any sick bags.