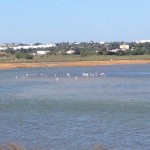 The villa here is surrounded by trees and birdsong is really noticeable – perhaps because it is spring.  There are lots of sparrows, blackbirds hopping around and swifts/swallows swooping about and some very lively azure winged magpies.  We've also heard but not actually seen woodpeckers.  Down at Gale beach on the dunes at low tide yesterday afternoon, there were lots of gulls, ducks and coots and to our amazement, flamingos.
I did some googling and have discovered that the Algarve is a popular area for bird watching – sadly we have only feeble binoculars and no proper camera so our only photo is a very fuzzy, distant one of the flamingos.  Quite a few areas of this southern coastline are nature reserves with the really nice feature of extensive wooden boardwalks criss-crossing the dunes so that the area is really accessible but nobody tramples over the habitats of birds and plants.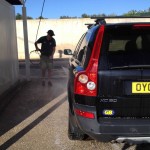 On the way home, we called in at the supermarket and spotted the car wash nearby.  Derek was having so much fun, I took a photo.