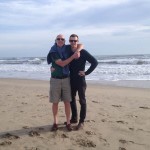 Danny's week here over Christmas has involved a lot of gadding about, a LOT of cycling and loads more cooking and eating.  It's been lovely having him here and he's told us all about his new job and living in Wimbledon.  He and Derek are off this morning doing their longest bike ride (a Sunday morning tradition) on what is a cool but sunny morning here in Pézenas.  This afternoon we are off to a rugby game – Montpellier v Biarritz at 5pm.
We've had some lovely walks and bike rides this week, including all three of us cycling along the beach path from Marseillan-Plage in the sunshine.  Danny also likes a walk down to Café des Arts for an evening beer or two before supper – good for people-watching and enjoying the Christmas lights.  He and Derek are getting to be regulars and now get free peanuts!
Danny flies home at 7.20pm on New Year's Eve – unfortunately back into Gatwick where there are no trains (suspended for engineering works) and so faces problems getting home to Wimbledon. It is looking as though Britt, having worked a 12 hour shift, might have to drive to Gatwick to fetch him!  At least they'll be together to see the New Year in!
Plans for Danny's last few days are to maybe have lunch in Meze and to revisit Valras Plage for a walk along the beach.  It will seem very quiet when he's gone!