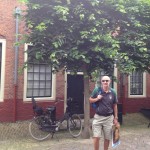 Our guide book and two different people we met in Amsterdam recommended a trip to Haarlem about 40k south of here so we started up the Volvo for the first time in over a week and drove down there. First though, Derek had a 10.20 dentist appointment. He cycled off at 10.15 looking glum and was back 30 minutes later, smiling but 90 euros poorer. His broken, loose filling was out, what remained smoothed over and all should be well until next month when he sees our dentist in Wellesbourne to get it fixed properly.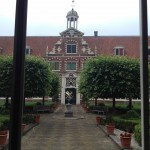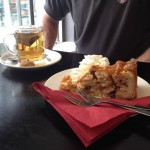 Haarlem was an attractive town with waterways, lots of trees, pedestrianised streets and appealing shops. We strolled about, had lunch outside in one of the squares and then headed for The Frans Hals Museum which is located in a grand old almshouse with a big central courtyard. It had a good audio visual presentation and lots of his portraits especially the huge 'Civic Guard' paintings. Like good tourists, we had tea and apple cake in the cafe and I bought souvenir placemats, coasters and a notepad.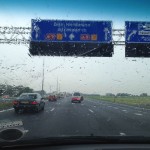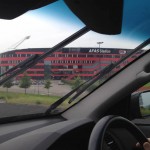 We drove home in the rain – it reminded us a bit of UK driving – just as busy though not as aggressive. With his immense knowledge of football trivia, Danny had informed us that nearby Alkmaar had the fourth best team in Holland and play in The Europa League like Spurs.
We saw the stadium on the way home so took a photo.
It's quiet back at Nanette's now that the bank holiday weekend is over. We did a bit of food shopping, made pasta with salmon and broccoli for tea (followed by strawberries, raspberries and slagroom) and sat quietly outside listening to the birds chirruping.