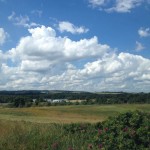 We are driving through Denmark from top to toe. Today we are staying in The Danish Lakelands near Skanderborg – it's quiet and rural – Derek has done a recce on the bike and we'll probably do some more cycling tomorrow.
We saw some interesting weather on the drive – it was basically warm and sunny but a lot of really wicked low hanging clouds were around and we could see them dumping rain and lightning in the distance. We stopped for tea and were overheating in the sun at 27 degrees but when we edged by a bit of black sky later in the car, the temperature went down to 12!! We seemed to be driving down a magic corridor of blue sky and sunshine with storms all around us. It's a lovely evening here and we are still sitting outside – the long evenings are amazing.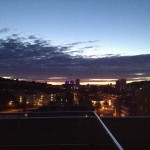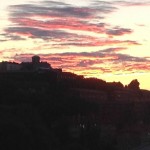 Derek took some photos close to midnight last night from the hotel room – it was still a bit light.
We have realised that two weeks tomorrow, we'll be in London!! Danny has just sent us a photo live from the outside courts at Wimbledon – he and Britt have got in for the evening and are watching a doubles game. They had their flask of tea confiscated!!