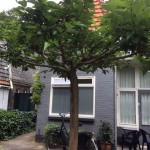 Friday evening – we're all packed up and ready to hit the road in the morning. Holland play Spain in the World Cup at 9pm so we're going to stroll down to town to see if we can watch it with the locals.
We've got an overnight stop booked for tomorrow in Ammersbeck in Germany. When we emailed to confirm our stay, they seemed never to have heard of us! We sent our bookings.com information through but are awaiting a reply – well it is Friday 13th today! We'll probably end up in an Ibis again.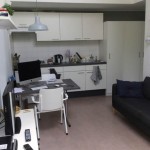 Anyway, it's goodbye (tot ziens) to Holland – we could easily stay longer, it's lovely here in Bergen – close to the sea and woodland, cycle paths everywhere, great for Amsterdam and friendly, English speaking people. We felt really at home at Nannette's apartments – Anna and Meis who run it are delightful and work hard to make everything comfortable. It's all very IKEA but really well equipped with lots of little thoughtful touches – hooks on the bedroom and bathroom walls, drying rack, extension lead with multi plugs, cushions for outdoor chairs, vase etc etc.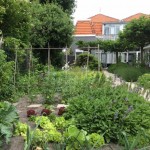 I think I will always remember the little garden here – it's been a real treat sitting on the terrace watching birds and bees and occasionally harvesting herbs or lettuce from the veg patch. They obviously have the knack of growing flowers and shrubs here – Dutch soil and know how I expect.
Our last three days have been the usual combination of cycling, (including a 24 miler through the tulip fields – a bit much for me, got a bit grumpy) and sightseeing. We did the local art gallery here in Bergen, The Kranenburgh, and the museum in Alkmaar which had a really good exhibit on Spain v Holland in the 16th century. Which brings me back to tonight's footie!