Quite a cloudy day but not cold and with rain forecast for later in the week we decide to head to Colombiers with the bikes to make the best of it. This is a small village on the canal about 30 minutes drive from Pezenas that has re-invented itself to cater for the summer hoardes using the canal – walkers, cyclists and boaters of every kind. There is a small boat basin where you can hire boats in summer and a few restaurants and eateries spread around the port. On a cloudy December day however there was not much action and we have the usual supplies of tea, coffee, ham, cheese, salad and fresh baguette (Never go anywhere without a baguette).
We stop in the town car park, brew coffee and get the bikes ready. After a little look around – mainly to find the toilets – we set off along the canal tow path towards Capestang with the intention of stopping for a picnic lunch at Poilhes. It's a lovely start, there's no one about, the canal looks lovely lined with trees and we make good progress. Then – the tunnel – a 100 meter section of canal with no path so we have to go up over the top. It's not clear where to go here so after several trips up and down gravel tracks we finally stumble upon the canal again only to find it's closed!!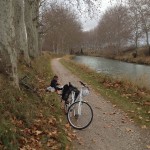 Yes – the old 'Route Barree' returns to haunt us again and block our ride. Barb spots the 'Deviation' sign so we are now cycling through vineyards well away from the canal and wondering where we are going. Eventually the track turns in the direction of the canal and we re-join the towpath. Time for food we think – so we stop for lunch.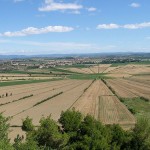 The clouds are building now and looking a bit ominous so we retrace our steps and return to Colombiers.  It turns out to be a really nice ride but not quite what we expected. We vow to return to find the Etang de Montady – a circular field pattern that goes back to hundreds of years. This is what we should have seen!