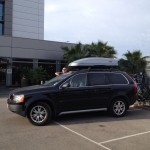 We are overnighting in Beziers tonight having done two long days of travelling.  We did eight hours on the ferry yesterday – we spent most of it on the top deck in the sunshine – Barb kept sea- sickness at bay but got a bit sunburned in the process.  A couple of delays:  the ferry had to wait for the Denia pilot to take it into port and then the cleaner at the villa had tidied away the keys Julian had left out for us so it took a while to retrieve our luggage.  We called in at Masymas to buy some supper – cold chicken, salad and beer – and drove on to our hotel at Valencia, arriving about 8pm.
Today we have driven about 400 miles, over the border into France and up to Beziers.  We did it in three stages, stopping for drinks, snacks and wees.  Both nights we've stayed in Ibis hotels which are Derek's favourites – they're great value for one night stopovers – close to motorways, easy to find, plenty of safe parking, wifi, restaurant, bar and comfy bed.  No tea making facilities though so we had to use our own stove and kettle etc.  It's been easy driving on the toll motorways (about 75 euros) in the sunshine – we've pretty much exhausted our supply of Radio 4 podcasts and Murray Mints.
We've another 5 hours' driving to do tomorrow heading north to reach Cours les Barres near Nevers.