Sunday's ferry to Majorca departed at 5pm so we had a lot of time to kill before checking in at 3.30pm.  First stop was Citrus Cafe for coffee and a shared bacon sandwich (first English bacon since October!).  We drove down to Denia expecting the usual Sunday quiet – instead the town was absolutely crammed with traffic and lots of roads closed as there was a big running race/fun run going on.  Eventually we parked near the ferry terminal and walked down to the marina to re-visit Republic for lunch – could it possibly be as good as last time when we went with Danny & Britt?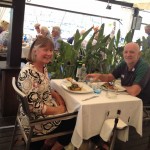 It was!!  We trusted them and ordered the menu del dia at 16 euros and it was all delicious with perfect service and a lovely setting, outside in the shade overlooking the boats.  For the foodies among you, here are the details and photos.
First course:  chicken salad with celery, pineapple and grapes in light mayo and paprika
Soup:  gazpacho garnished with red pepper, chives, shallot and croutons
Sorbet
Main course: pork loin wrapped in bacon with roast potato, pak choi, green beans and apple sauce
Dessert:  apple strudel and ice cream
The total bill which included bottled water, coffee and iced liqueurs was less than 50 euros – what a treat!
We strolled back to the ferry terminal thinking we wouldn't need much at tea time,  This was just as well as the food choices on the ferry (an 8 hour crossing) were awful.  We actually ended up just sharing a large bag of crisps!