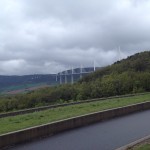 The drive from Beziers north to Nevers was a stop-start journey.  First we branched off the main road to look at Les Trois Oliviers, the villa we are renting later in the year.  In Pezenas we filled the car with diesel and bought croissants, jam, quiches and sandwiches from the boulangerie.  An hour or so of climbing and rainy weather brought us to the Millau viaduct where we stopped for photos and a look in the visitors' centre.  The road to Clermont Ferrand was quite difficult driving – bends, changes of altitude, lots of lorries, cloud and rain.  It was a two lane motorway but not a toll road so easy on the purse but not relaxing.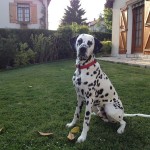 Both the weather and the road improved further north and the last hour took us on country roads through pretty villages until we arrived at Blandine and David's lakeside house at 5pm in the sunshine.  We think it is 20 years since we last saw them so we did lots of catching up over a delicious supper.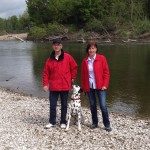 We also really enjoyed the company of their one year old Dalmatian, Indy, who we have so far taken for two walks and who is a lovely fella. Lunch was, according to Blandine, "nothing special".  After aperitifs, we had a starter of pink and yellow grape fruits with avocado and crab, a main course of pork cutlet with roasted tomatoes and potatoes with thyme followed by  coulommiers cheese and fresh pineapple!!
We plan to do a bike ride if the weather allows before we set off tomorrow for St Valerien in The Vendee where we can unpack the car and settle in.