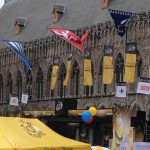 Our last full day of the adventure was in Ypres – July 9th. We had planned it that way to coincide with stage 5 of the Tour de France.
We had checked Ypres a few days earlier and worked out our plan of action.
Cycle in > park the bikes in the secure area > watch all the preliminaries and the caravan > find a good spot for the start of the race and then head to the fan park to watch it on the big screen.
The weather however had other ideas. The forecast was for rain and more rain so we reverted to plan B. Drive in and play it by ear. The rain came – it was very heavy and the race departed in a real downpour.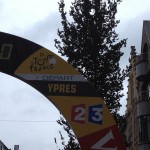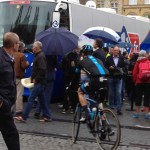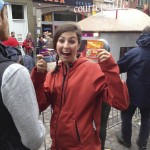 We did all we planned however although very wet. We even managed Belgian waffles before heading back to Poperinge.
Back at the hotel we began to pack up and discovered that Danny's car had a flat battery. Volvo Assistance to the rescue again. A man with a big battery turned up to start but not before a fair bit of stress and more hanging around in the rain.
We departed early on Thursday morning – relieved that both cars started – and headed for Calais. We are still in the German hire car so going through border control was interesting with British passports. All went smoothly and even the drive to Kew around the M25 was not too bad.
We arrived at the Travelodge around 1.30 and the next phase – a military style precision attack – began.