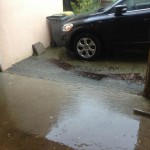 As forecast, it was pouring with rain when we woke up.  The shutters on the windows and doors kept the house dry but the huge cellar was flooded, with water pouring in under the garage door.  We moved a lot of stuff, took up drain covers and tried to clear them but it was all looking rather grim.
The rain eased at lunchtime and with visibility restored, we could see that the nearby Herault river had flooded  – we had a walk down to the vineyards which were all under water at the base – water running along the country lanes all over the place.  After lunch, the water level started to subside in the cellar so we drove into Pezenas to buy groceries.  We got there ok with only one large puddle to drive through, but on the way back, the road was closed so we had to do a long detour home via Montagnac.  We saw loads more flood damage on that route including abandoned cars and one vehicle wedged between two trees, presumably swept there by the river.  Country lanes are strewn with branches, rocks and debris – brown mud is everywhere! More photos of the damage to the area can be seen here.
So, if you've been imagining us lying on a beach here in the south of France, gazing out at the Mediterranean – well, not this week!!